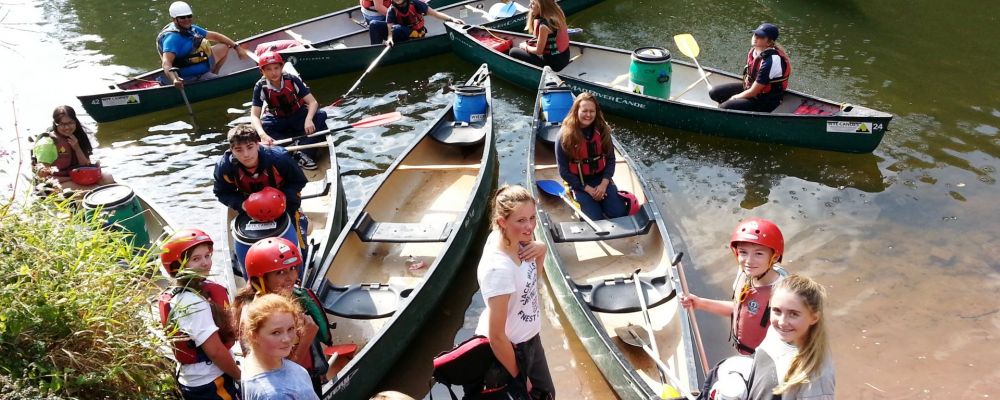 Activities for all ages
Wye Canoes is based in the heart of the Wye Valley, nestling on the bank of the river in the beautiful Symonds Yat, so we are in the perfect location to take advantage of this amazing river.
Our instructors and guides are all National Governing Body Qualified, and have years of experience inspiring and educating young people in watersports from introducing children to canoeing or kayaking for the first time in a safe and fun environment to multiday expdeditions that include camping in remote locations and experiencing nature and the outdoors at first hand using bushcraft techniques that will stay with them forever.
Each trip or session is unique and it's all about learning, enjoying and inspiring children to maybe try something in a safe and secure environment outdoors whilst having fun and learning. Our sessions can involve anything from being introduced to the basics of paddlesports, or with a recognised award scheme in mind to problem solving or raft building.
We can set a programme of sessions to work towards a recognised award such as the Duke of Edinburgh Award, BCU 1 or 2 star or paddlepower scheme. Maybe it's an overnight trip you have in mind, we have a number of loactions we use for over night camping along the river Wye, some locations are more remote and all food and equipment needs to be transporting in the canoes, and some like Biblins Youth Site in the Wye Gorge are easily accessable to a support team and have fantastic facilities including bunkhouse accommodation, either way everyone is going to have a great time.
There is 100 miles of paddleable river along the Wye, so for an alternative the group can be taken further up river short or long distances to experience the unique river and paddle along sections of the river Wye itself, or do the complete Wye 100!
But it's not all about being on the water, we can organise many other land based activities for the kids, whether it be climbing, caving, orienteering, bushcraft as some of the activities we can provide.
It's all about assisting in their education, learning new skills and helping to build up their self-esteem and confidence whilst getting them motivated to be in the outdoors.
Whatever you have in mind, however challenging it may be, Wye Canoes are here to provide inspiration, safety and support for your group whatever the size or experience…
What Wye Canoes can offer your youth group
A safe and enjoyable experience
NGB qualified instructors
AALA Licenced and DofE & BCU Approved
Adventure Activities Licencing Insurance – £5 million public liability
Canoeing or Kayaking Instruction
Duke of Edinburgh Award Schemes
Guided trips along the River Wye
Multi-Activities – canoeing, kayaking, orienteering, climbing, caving, bushcraft and more...
Half day, full day or multi-day experiences, the choice is yours
For advice on distances for your group please don't hesitate to contact us.
Half Day Sessions
These can start at a time of your chosing and can either be static or lake based or involve a river trip of around 6 miles. The duration of the half day is around 4 hours, with around 2-3 hours being on the water. In this time we can teach basic boat control and play some fun games. We can either use kayaks or canoes or maybe a mix of both.
Full Day Sessions
Starting around 10am and almost always involving a river trip full days are a great experience, Kerne Bridge to Symonds Yat is a very popular route, being around 9 miles it leaves plenty of time to have fun with out too much pressure to paddle to fast. Lunch is usually in the form of a picnic (provided at £5 per head) and taken by the riverside. If more than one activity is required we can mix canoeing and kayaking with bushcraft or orienteering, or climbing or caving or maybe mountain biking, whatever you like.
Overnight Camping Trips
An overnight trip is great way to experience the Wye Valley and the great outdoors. We have a number of campsites we prefer including Biblins Youth Campsite in Symonds Yat. After a great day on the river the group can either have a night under canvass or bivi, or maybe stay in the bunkhouse at Biblins. Sitting around a campfire is a great way to enjoy the outdoors and connect with nature, in the Wye Valley we have deer, wild boar, peregrine falcons, buzzards and otters to name a few inhabitants and a great time to way to see them is to camp out.
Multi-Day Expeditions
We can arrange expeditions that can take in the whole of the river Wye such as our Wye 100 Challenge or maybe something a little less challenging a few days on the river camping out and experiencing the stunning Wye Valley, learning fantastic bushcraft techniques and canoeing skills and maybe even achieving a recognised award at the end of it. We can assess for Duke of Edinburgh and British Canoe Union awards so the sky is the limit and anything can be achieve with a little effort.
Award Schemes
Everybody receives a Wye Canoes Achievement Award for their time with us but if that is not enough we are also able to assess on behalf of the British Canoe Union and the Duke of Edinburgh Award schemes. We can put together a programme of sessions to maybe achieve a BCU 1 or 2 star or paddlepower award, or maybe you are thinking of DofE award, we can assess and provide all the equipment and instructors to achieve your goals.